Our Story
Over three decades ago, the principals of what would become Faspac, the parent company of Fastap™ Screw Products, offered an otherwise technically undistinguished screw product to contractors from a small store front contractor's supply in a suburb of Seattle, Washington, USA. Although it might have looked like the average "self tapping" screw product of the time, its one distinguishing hallmark over other screw products, was its uncompromising quality in materials used in its design and manufacture. The die was then cast for the philosophy that was to guide what was to become known as Fastap™ Screw Products: Offering the highest quality product that exceeds expectations.
The product line grew over time until five years later, after a move to City of Industry California, the original company was renamed Faspac Inc. and offered up its established product line as Fastap™ Self Tapping Screw Products. As this transformation was taking place a new screw product was being developed that would define a new fastener category. That defining product was Fastap Plus™ Self Tapping Exterior Grade Screws, with a special polymer coating Fastap™ would later be trademarked as "Duracoat™". This coating was common in automotive and aerospace manufacture and prized for its rust resistance while keeping the screw free from "hydrogen embrittlement" (a problem with galvanized products), but unheard of in woodworking circles. As was their way, Fastap™ offered the highest quality product for woodworkers and serious D-I-Y-ers and were the first screws on the market to recognize a need for an exterior screw that could easily outperform galvanized screw products in the harshest applications outdoor applications and in pullout, shear strength and rust resistance. The product was a hit for decks and other outdoor projects both in commercial and residential applications but it also attracted the attention of major screw companies who were Fastap's competition. It was a trend setting product and unfortunately some of its general features and its coating were copied by some but without Fastap's commitment to quality.
Next came the biggest breakthrough for Fastap™ Screw Products: The creation and development of the Power Point™. Years in the making, the Power Point™ was a patented feature that others couldn't copy and made Fastap™ Plus (and later the rest of the Fastap™ product line) the first real self drilling woodworking product. The Power Point and its concepts (which we call Power Point Technology™) is still revolutionizing how wood (and now laminates like melamine) is put together. The Power Point™ it,s cousin Power Point 2™, the third version of the Power Point™ (v.3) and now version four, were and still are, the only real completely self-drilling tip features offered on woodworking screw products. Other products may claim "self drilling" but any Fastap™ screw product utilizing Power Point Technology™ will perform better than its competition in the widest variety of situations in the widest variety of materials using the least tools - working perfectly with even battery powered drill motors - and giving the cleanest installation. To this day, the Power Point™ (and Power Point Technology™) is still winning converts and making true believers with its ease of use. In fact, one new Fastap™ user wrote us this about our product: "These things are like drugs! The more you use them the more you want to use them for everything!" Like we say, "You have to try them to believe it."
Along with the development of the Power Point™ came one more move to Faspac's present corporate headquarters in Vancouver Washington, USA. Originally a northwest company, they had now returned to the area of their origin.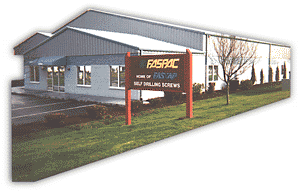 Faspac Inc. 13909 N.W. 3rd Court
Vancouver, WA 98685
Once the interior woodworking and coated exterior products were safely established, work was started on bringing Fastap's high quality, no compromise engineering philosophy and Power Point™ to the stainless steel woodworking fastener category. This new product was to be dubbed "Tech 7™". The Fastap Tech 7™ was introduced with a full line of woodworking and trim styles and with a new "Bin-Pak" feature built into its 500 count (5lb.) packaging configuration. The combination of the self-drilling Power Point™ and stainless steel proved to be a big hit with professional remodelers and builders as well as no compromise D-I-Y-ers. Faspac once again had a hit on its hands because of its commitment to quality and the innovation of the Power Point™.
Soon after Tech 7™ was introduced came another revolutionary fastener product. Fastap Lamina™ Laminate Screws. Made expressly for melamine and laminate applications, it featured a newer generation Power Point™ called "Power Point 2™". Augmenting this new tip design was an entirely new head configuration for self-countersinking into laminates. Originally intended for the cabinet and furniture trades, the Fastap Lamina™ products have proved to be an able and popular performer for attaching hardware and fastening together many other things originally unplanned. Folks tell us that its self drilling Power Point 2™, smaller, thinner flat head with nibs, coarse threads and range of shorter lengths are perfect for light jobs around the home.
Next to be introduced to the Fastap™ stable of quality screw products was the revolutionary Fastap Poly2™ Wood/Poly Composite Screw. Poly2™ was the first screw product expressly engineered for use in the then new wood/poly composite lumber. Before Fastap Poly2™, wood/poly materials had to be "finished" soon after fastener installation to keep "mushrooming" (also called "vocanoing") from marring the surface. Now, with Poly2™, installation was a simple one-step operation that saved time and gave a cleaner installation that wasn't available before. Once again, as always, Fastap™ was in the forefront of making carpentry construction easy, quick and clean.
After the development of the Poly2™ product line, we wanted to greatly improved the corrosion resistance or our patented Duracoat™ coating. On the horizon were new federal mandates for treated woods and every exterior grade fastener that was then available would be severely challenged, or not offer any corrosion protection at all, in these newly mandated treated woods. Years of development and research yielded what we dubbed "DuracoatXT™". This new coating was developed to be far superior to any competitive product offered then (or now) and was proven to be by extensive third party testing and evaluation. We called it "best-by-test" because it was and we haven't been proved wrong yet. DuracoatXT™ has since been applied all across the Fastap™ exterior fastener line (Plus, Plus 10, Poly2, Poly3) for superior corrosion resistance to other exterior products.
The newest addition to the Fastap™ product line is Fastap Poly3™ Wood/Poly Composite Screw. Poly3™ is the next generation of fastener for the harder wood/poly composite lumber products now popular. Poly3™ makes use of many exclusive patents for the easiest one-step installation (without finishing steps) that seals the surface from water intruding to the supporting timbers below and it's removable. Now, there may be many imitators but none can do the job like Poly3™. Poly3™ also utilizes our patented DuracoatXT™ coating (in three colors) for greater longevity in the new mandated ACQ, CA and CCA treated lumber, under the deck, that you fasten the composite lumber to. Best-by-test in these highly corrosive treatments, DuracoatXT™ performs better than any other popular coating being used in the market today.
Well, that's "our story" for now but it is a continuing story for sure. As you read this, We are working on new Fastap™ Self Drilling fastener products for new markets. Fastap™ will always offer the highest quality products for people who have a passion for woodworking and want to save time, minimize labor and want the best fit and finish.